In order to understand bunions, it is important to understand the anatomy and function of the foot. Please read Foot Pain Info's section on basic foot anatomy. For additional background information on the biomechanics of the foot please read Foot Pain Info's section on basic foot and ankle biomechanics.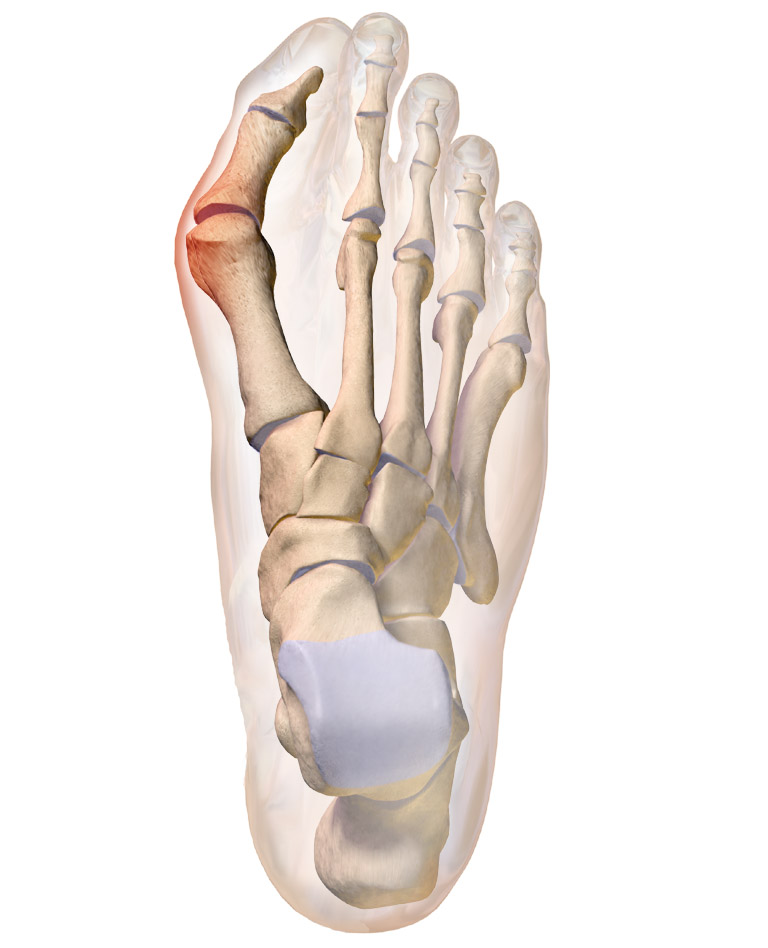 What is a bunion?
A bunion is a deformity of the metatarsophalangeal (MTP) joint of the big toe in which the metatarsal bone shifts inward, away from the rest of the foot and the big toe shifts outward, towards the other toes. This results in a "crooked" big toe. As a result, the tissues around the MTP joint can become irritated and painful.
A small fluid filled sac called a bursa sits on the inner side of the MTP joint. This bursa decreases friction between the skin and the underlying bone. It can also become irritated and painful.
What does a bunion feel like?
The pain from a bunion is felt around the MTP joint of the big toe. People with bunions often complain of pain when they when they stand or walk for long periods of time. High heeled shoes or shoes with a small toe area can make bunions feel and look worse. As a result of the deformity the big toe can lose some of its range of motion or become stiff. Sometimes both feet are affected.
What causes bunions to form?
The most common cause of bunions is poor footwear. Poorly fitted shoes, high-heeled shoes or shoes with a narrow toe area can all cause bunions or make bunions worse. Bunions can be hereditary and they can be associated with poor foot biomechanics such as overpronation or flat feet. Rheumatoid arthritis or some diseases of the nervous system can also cause bunions.
Can bunions be detected on X-rays?
X-rays are the best way to determine the amount of deformity of the MTP joint. Blood work may be required to rule out other diseases that may be associated with bunions such as rheumatoid arthritis. Other tests such as bone scans or MRI's are not usually required.
What is the treatment for bunions?
The treatment of bunions should be individualized because the degree of deformity is not always consistent with the degree of pain. The most important first step in the treatment (and prevention) of bunions is to wear properly fitted shoes, with a low heel and adequate room in the toe area. Further treatment may include relative rest and icing to decrease pain around the MTP joint, medications to reduce inflammation and pain, stretching and strengthening exercises and shoe orthotics. If the above measures are not successful, surgery may be required.
What other information is available on bunions?
Foot Pain Info 's links section has additional information on this topic. Links have been provided to other websites as well as online medical journals. Visit Joint Pain Info for information on other joint injuries and problems.